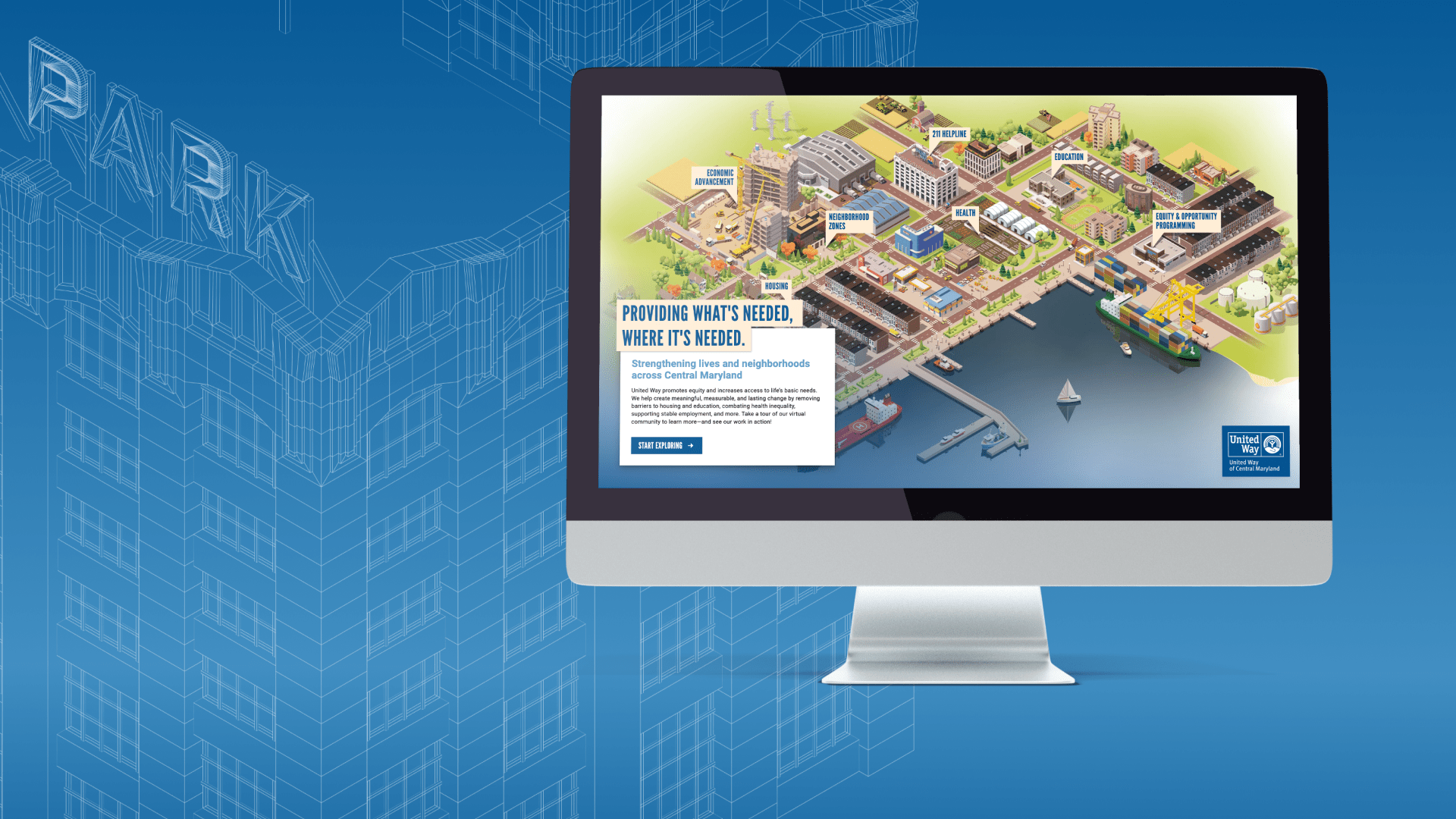 United Way
Creating meaningful moments in 3D
Background
United Way of Central Maryland's programs promote equity, opportunity, and improve lives and communities. Their donation-based programs increase access to basic needs: housing, health, employment, and education. They pride themselves on providing focused help in the community—directly to those in need, when they need it.
They are known for breaking barriers to education, housing, health, and employment. Since Mindgrub is all about breaking barriers with technology, it was a perfect match.
We have a reputation for being game to try new things...We want to find unique ways to push beyond the usual.
Meagan Petri, Creative Director of Mindgrub Agency
Our Approach
With such a unique project, tight collaboration with the talented United Way of Central Maryland team was important. Previous iterations of their giving guide had been internal-facing PDFs, but they wanted something different—something that would really show users how their contributions can help United Way of Central Maryland continue its important work in the community.
At first, Mindgrub suggested the idea of an exploratory doll-house style experience, where users could explore different rooms and read about the positive effect their donations might have in different contexts. Then the United Way of Central Maryland team suggested thought bigger: A fictional Maryland-inspired city where users could move around a three-dimensional digital neighborhood. They could peek inside of familiar houses, apartments, and even the farmlands of their home state. From there, they could explore more about where donations go, and even select where their money went for targeted impact.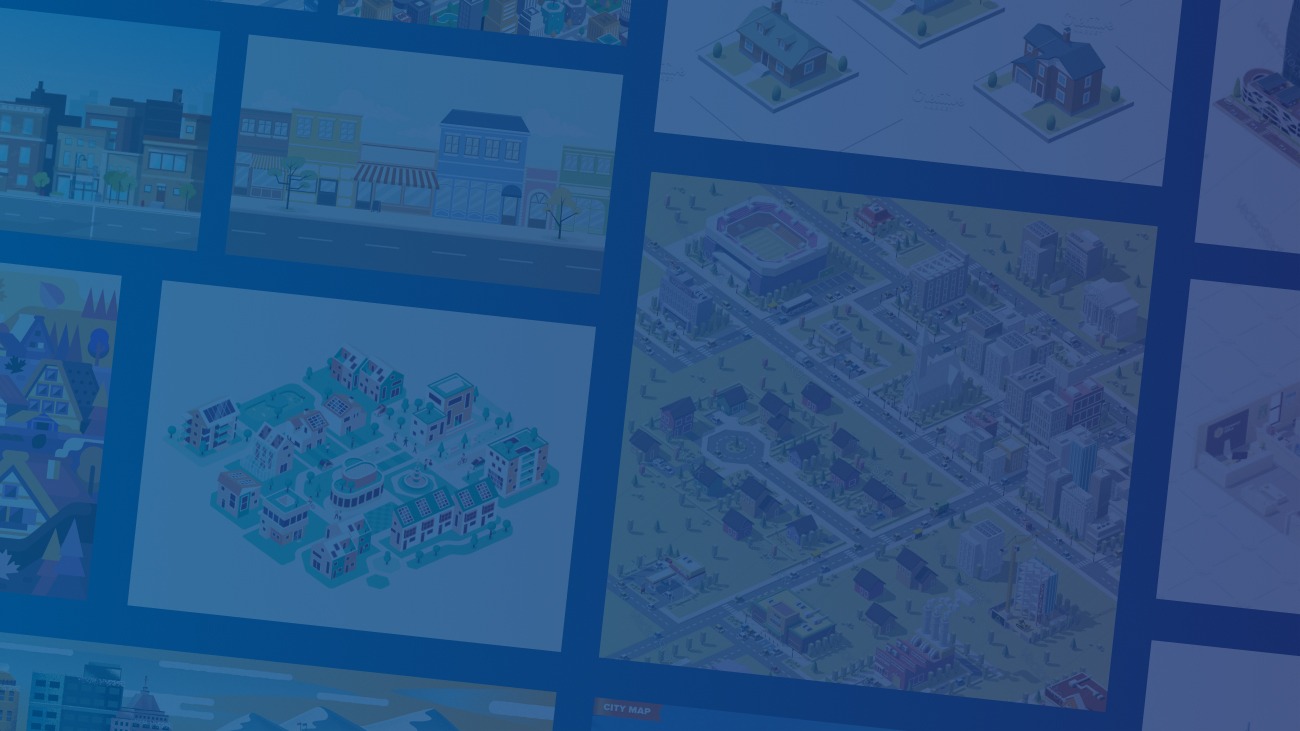 It Takes A (Tiny, Virtual) Village
While this was one of our more experimental projects, it started as all Mindgrub projects do: the Discovery phase. We researched, interviewed, and workshopped with the United Way of Central Maryland's team to align on priorities. From there, different illustration styles were presented. High fidelity, illustrative and geometric, three-dimensional, and hand-drawn were all offered as possible directions.
Some leaned on forests and mountains, others were more urban and industrial. The options were endless, but we needed to find stockpiled illustrations that could be customized in order to get the site in front of prospective and current donors as soon as possible. United Way of Central Maryland landed on an isometric illustrative style, which had dynamic dimension while still feeling inviting.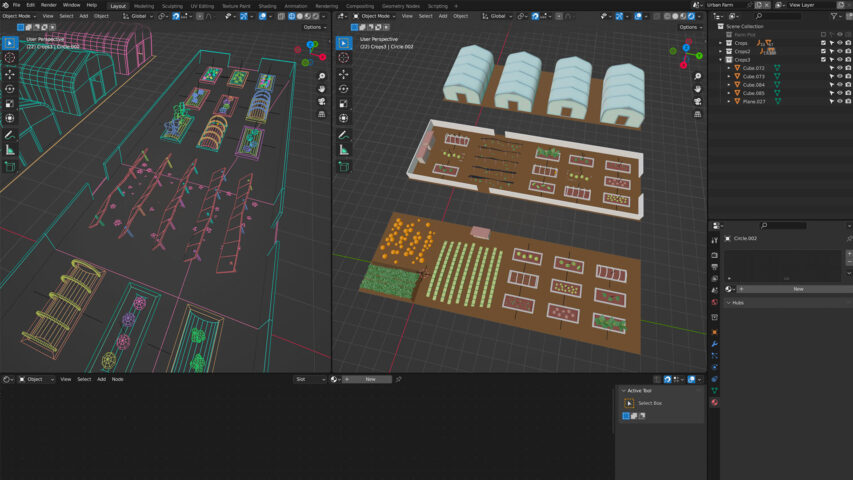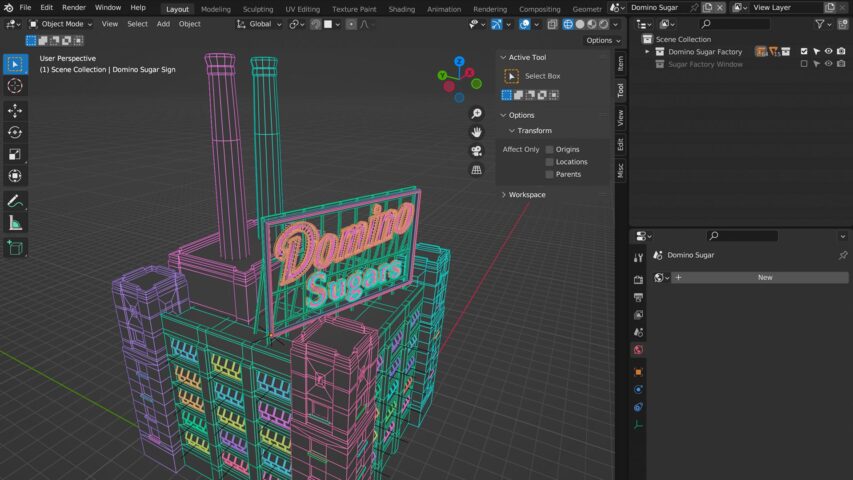 Take Bold Ideas And Put Them In A Blender
In order to create custom isometric buildings that would integrate seamlessly with the selected stock illustrations, the use of the Blender tool was imperative. The two-dimensional styles were diligently replicated with layering effects using this incredible 3D software.
Mindgrub recreated beloved Baltimore buildings (such as the Domino Sugar factory) so that visitors would have a sense of nostalgia in this fictional Maryland town. As an added surprise, we even built United Way of Central Maryland's own iconic headquarters in Baltimore, the famous Montgomery Park building.
Interspersed with these distinct city blocks were Maryland farmlands, ships in a peaceful harbor, Baltimore-style rowhouses, and many other intricate details that made this digital space feel like home.
Once the town came together visually, it was all about the development. Mindgrub's developers got to work making sure e-pledge, United Way's electronic donation system, connected effectively so users could easily donate to specific services. And as of September 27th 2021, United Way of Central Maryland's tiny town went live, to the delight of everyone.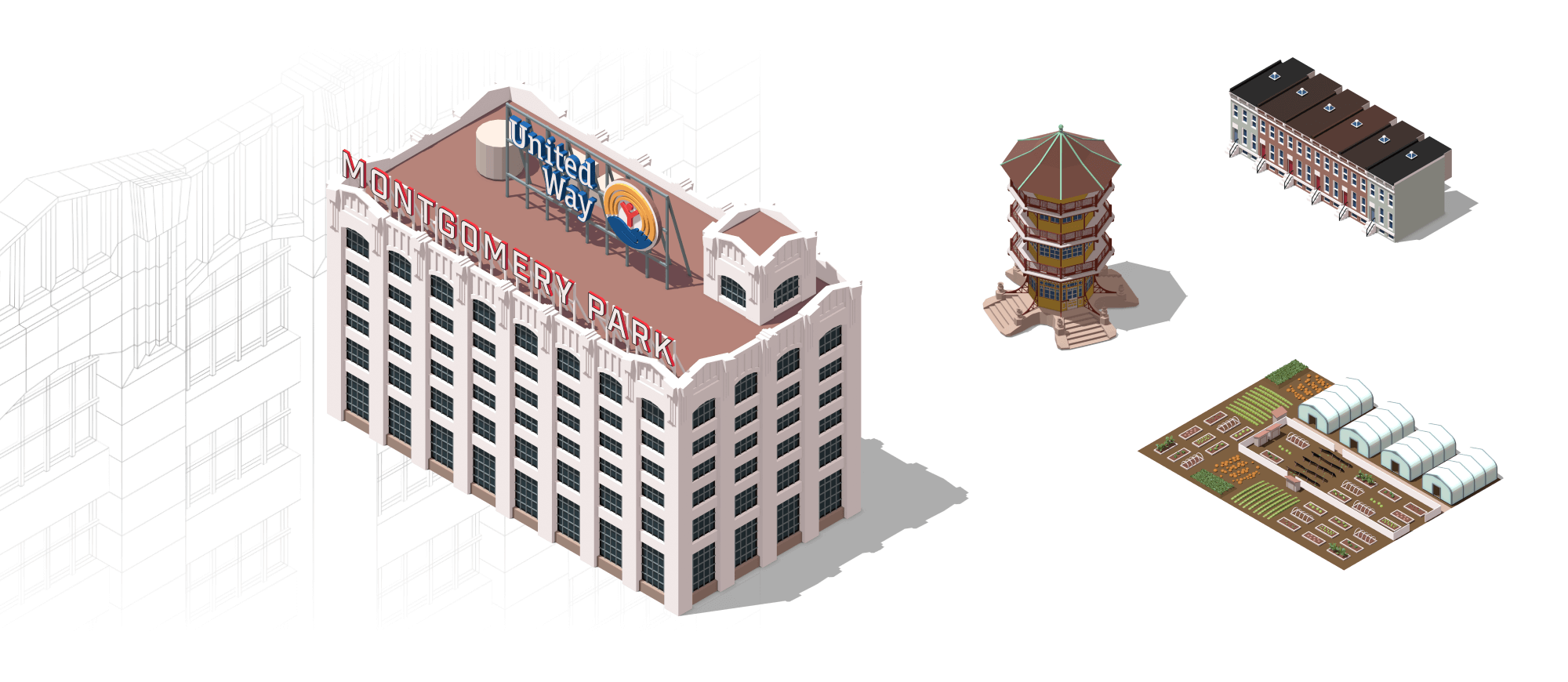 At United Way of Central Maryland, so much of our work is interconnected and a result of the input of those in neighborhoods. Working with Mindgrub, we wanted to share how our work spans throughout communities in Central Maryland – and were thrilled with the result!
Renee Beck, United Way of Central Maryland Vice President of Marketing & Innovation
Digital Guide
The logical choice for site hosting was one of Mindgrub's own strategic partners: Pantheon. Their robust and high-impact platform offers a resilient experience in a browser—so users accessing from anywhere would have a consistent and exciting time exploring this little world.
As users tour this Sims-esque town, they can click on apartment buildings and see into rooms and explore incredible United Way content to learn more; including videos, blogs, and podcasts. They can see the effect of providing wifi to underserved communities, the impact of free childcare, and how partnering with local farms to distribute whole foods can make their communities thrive.
United Way of Central Maryland's new digital giving guide shows it all, and Mindgrub was happy to help. Ready to take a walk around town?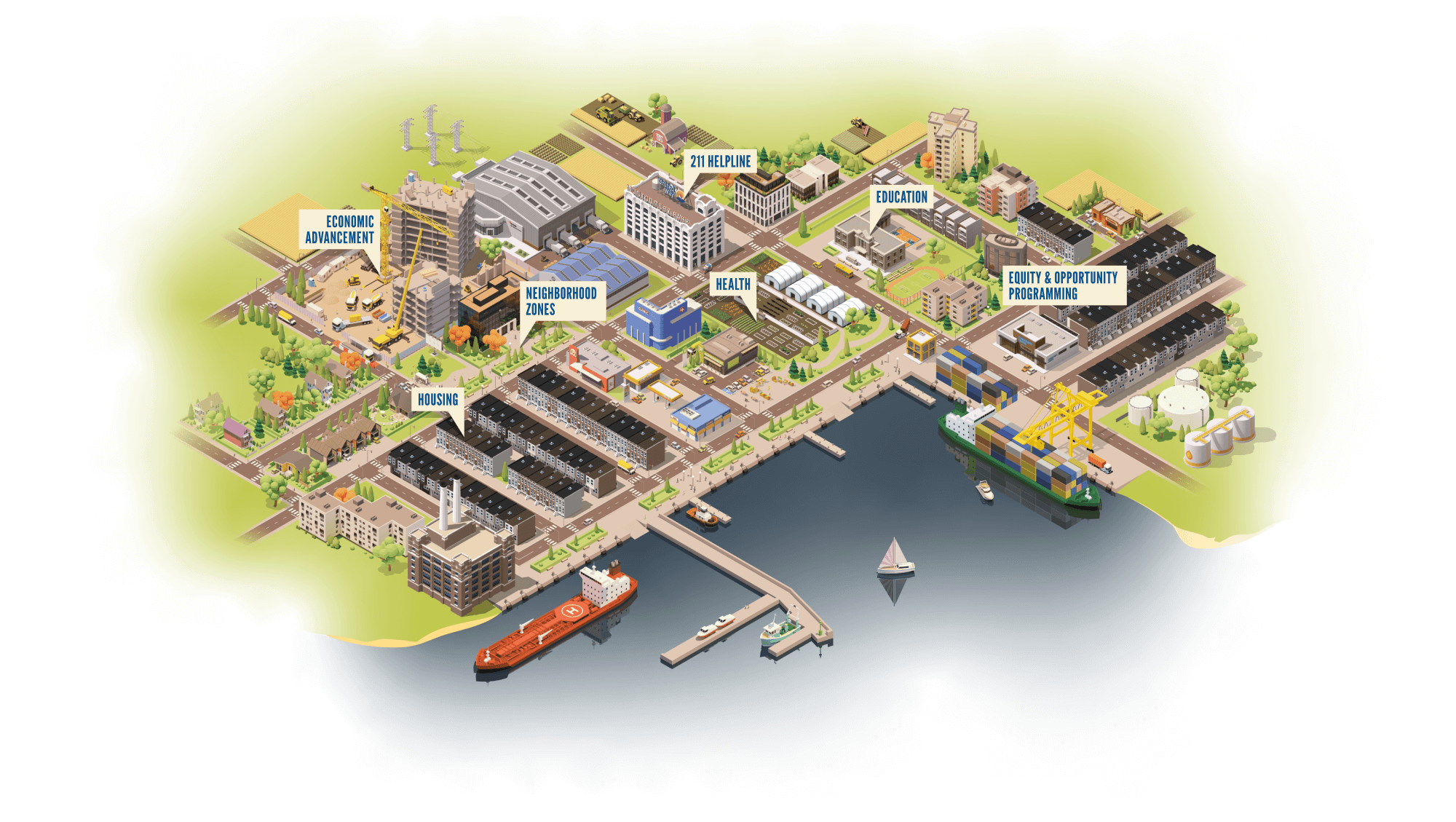 It helps people learn how they can direct their giving to what they have an emotional connection with. They can have a direct impact on something they believe in.
Lauren Herda, Mindgrub Art Director
Results that Matter
At the 2022 Communicator Awards, the United Way of Central Maryland Giving Campaign won Excellence in Gold for its visual appeal and functionality, as well as Silver for Website User Interfaces.
United Way of Central Maryland was bowled over by the end product. They have since used it as an example of the level of detail they want in future projects, and recommended Mindgrub to other curious parties.