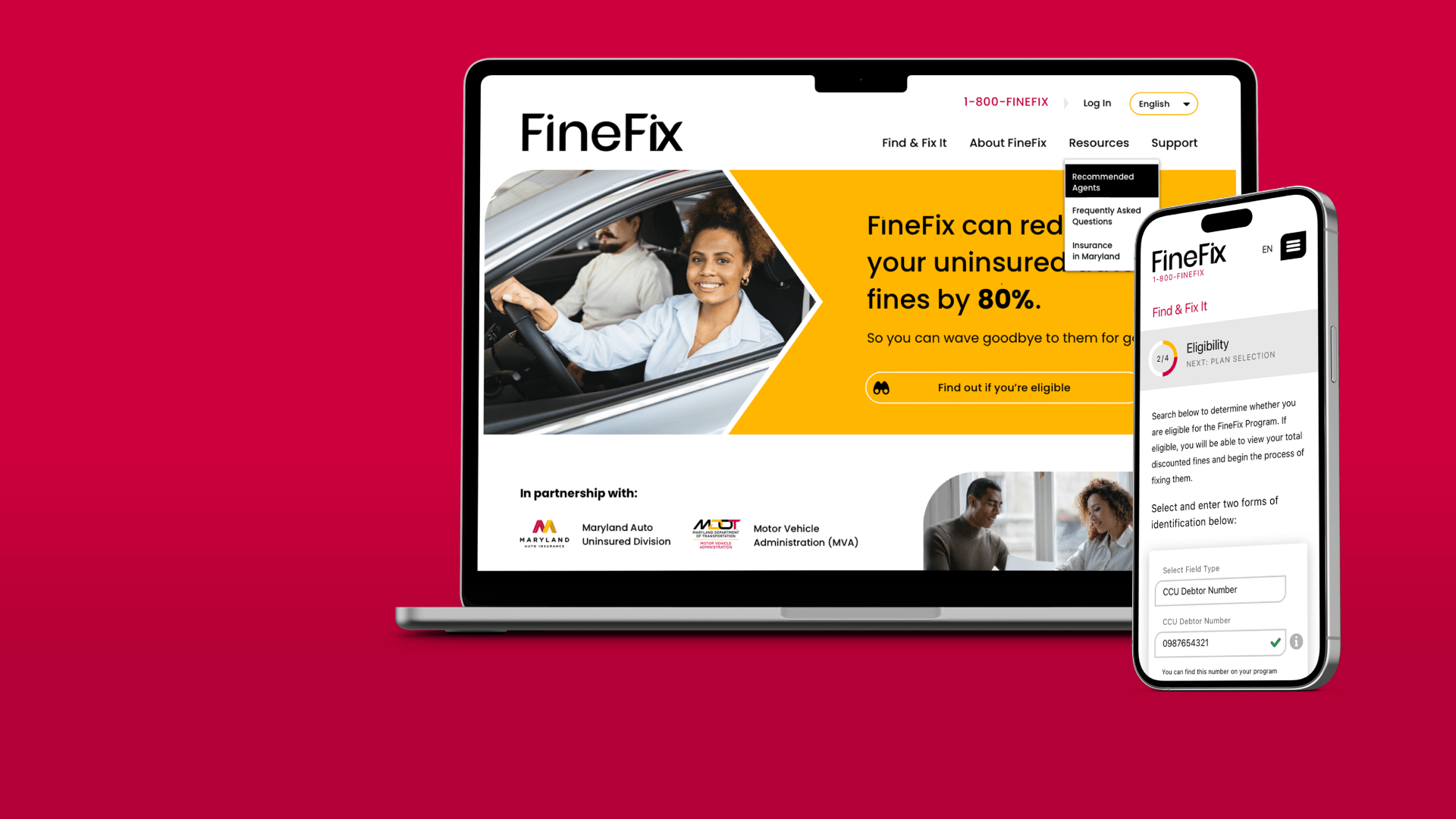 Maryland Automobile Insurance
User-friendly web platform helps put Marylanders back on the road
Background
Established by the Maryland legislature in 1972, the Maryland Automobile Insurance Fund (known as Maryland Auto) is an independent agency that provides motor vehicle liability insurance to residents who are unable to obtain insurance in the private market.
In 2017, Maryland Auto was selected to administer the state's uninsured vehicle fine forgiveness program (known as FineFix). Maryland Auto contracted with Mindgrub to develop an intuitive online experience that makes it easier for individuals with insurance fines to pay back their debts.
Our Approach
Using stakeholder interviews, requirements definition, and technical architecture diagramming as part of our comprehensive "Sprint 0" discovery process, we gained valuable insights into Maryland Auto and the FineFix program. We developed user journeys and workflow recommendations to help streamline the user experience as much as possible for diverse audience segments. To ensure the platform was scalable, accessible, and secure, we provided enterprise-grade Drupal development services. We also built out integrations between the web application, Maryland Auto's bookkeeping software, and several other third-party software systems to aggregate and validate data.
In order to create a successful user experience, the FineFix platform needed to achieve the following:
Be accessible to both Spanish-speaking and English-speaking users
Accept various types of payment, including cash
Educate drivers about new laws and regulations
Generate auto insurance quotes based on user information
Automatically prompt flags placed on licenses and vehicles to be lifted upon program completion
Key Website Features
Powered by a robust backend and engaging, user-facing content, the FineFix website guides drivers through the program's process to help them quickly and easily achieve their goals.
The Mindgrub team led us through this complicated process with a commitment to our shared goals and timelines. They listened and challenged and learned about our business. Together, we produced a system that has delivered strong measurable results from every perspective.
Cathy Nyce, Director of Marketing & Communications, Maryland Auto